[ad_1]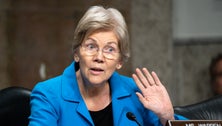 Sen. Elizabeth Warren (D-Mass.) said Thursday she's glad Rupert Murdoch is stepping down from his empire, but blasted the media magnate for the "incalculable damage" he's done to the country.
Fox Corp and News Corp. announced Murdoch, 92, would pass the reins of the companies to his son, Lachlan Murdoch ― a seismic shift in a media landscape he has long dominated.
Warren appeared on MSNBC's "The ReidOut" after the news, telling host Joy Reid that Murdoch's work ― including the creation of Fox News — had made lasting changes to the nation.
"Rupert Murdoch built a hate-for-profit machine and that machine has undermined our democracy and done incalculable damage to this nation," the senator said. "I'm glad he's leaving, but I wish he'd never come."
Warren has slammed Fox News in the past. In 2019, she turned down the network's invitation to appear in a televised town hall while she was running for the Democratic nomination for president.
Murdoch said this week he will remain as chairman emeritus of the companies, adding he planned to stay involved even as the succession takes place.
"We have every reason to be optimistic about the coming years — I certainly am, and plan to be here to participate in them," he wrote. "I will be watching our broadcasts with a critical eye, reading our newspapers and websites and books with much interest, and reaching out to you with thoughts, ideas, and advice."


[ad_2]

Source link