[ad_1]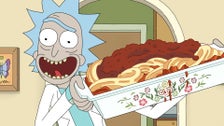 No wubba lubba dub flubs here.
On Monday, Adult Swim released the trailer for "Rick and Morty" Season 7. The trailer features two new voice actors portraying the titular characters — Rick Sanchez and Morty Smith — who were both previously voiced by the animated series' co-creator Justin Roiland.
The network is keeping Roiland's replacements confidential for now and will reveal their names upon the show's season premiere on Oct. 15, according to The Hollywood Reporter.
Yet, despite the switch, the "Rick and Morty" team deserves a vat of Szechuan sauce for its efforts because whoever is voicing the dimension-traveling duo in the upcoming season sound almost identical to Roiland's original portrayal.
Despite the new actors, Rick and Morty seem to be up to their old antics in Season 7. The trailer includes Rick turning himself into a sentient object (in Season 3, he turned himself into a pickle, this time he appears to turn himself into a leg), the duo partaking in escapades linked to '90s pop culture (looks like we're getting a "Men in Black" parody episode), adventures involving Birdperson (Dan Harmon) and Squanchy (Tom Kenny), and more therapy sessions with Dr. Wong (Susan Sarandon).
And since we don't have the ability to erase memories like in Season 3's "Morty's Mind Blowers," it should be stated that Roiland was let go from the series he helped create with Dan Harmon after news broke in January that Roiland was facing two felony domestic violence charges. Although the charges were later dropped, a NBC News investigation published earlier this month interviewed nine "Rick and Morty" fans who told the outlet that Roiland used his fame to contact them on social media for sexual reasons. You can read more about the concerning allegations here.


[ad_2]

Source link