[ad_1]

If it feels like the go-to strategies you've always used to stretch your grocery budget aren't as effective as they used to be, you're not imagining things. Not only are food costs through the roof, but they're expected to continue rising.
But you're probably wondering: What are the best ways to save money on groceries that don't involve spending all your downtime meal-planning and prepping or downloading every cash-back app you can find?
It's an excellent question ― and one that we asked a handful of professional chefs. Here's how they get the job done when they're not on the job.
Learn The Lay Of The Land
"I was one of those people who liked walking down every aisle of the grocery store," said Steve Konopelski, chef instructor at the Auguste Escoffier School of Culinary Arts. "So often, I found myself buying things I didn't need because they popped out at me."
To curb impulse buys, he now organizes his shopping lists based on the layout of the grocery store. "I make sure I know exactly what's down each aisle so I can skip over the ones that don't apply to my list," he said. "It helps me stay focused on the items I actually need."
Take Pre-Shop Pictures
If you find doing an inventory of your kitchen before grocery trips to be tedious, you're not alone. One way Sébastien Canonne, chef and co-founder of Equii bread, streamlines the process is by taking pre-shop pictures of the inside of his fridge, freezer and pantry.
"Having a photo to refer to can help jog your memory at the store and prevent you from accidentally purchasing items you're not running low on after all," he said.
Calculate As You Go
Even if you have your food budget top of mind, grocery stores are structured to entice you to spend. For Canonne, using the calculator on his phone and subtracting the cost of each item as he puts it in his cart helps him thoughtfully choose and avoid overspending. And if you round up the price of each item (items that are $4.79 become $5, for instance), you might even leave with some of your budget still intact.
Bring A Towel
Steve Chiappetti, executive chef of the Albert restaurant in downtown Chicago, shops with a towel in hand. "The rain they spray on veggies in the produce aisles is a game of money," he said. "It's not necessarily just about keeping them fresh, but adding water weight to the scale." So bring a towel along and pat them dry before you buy.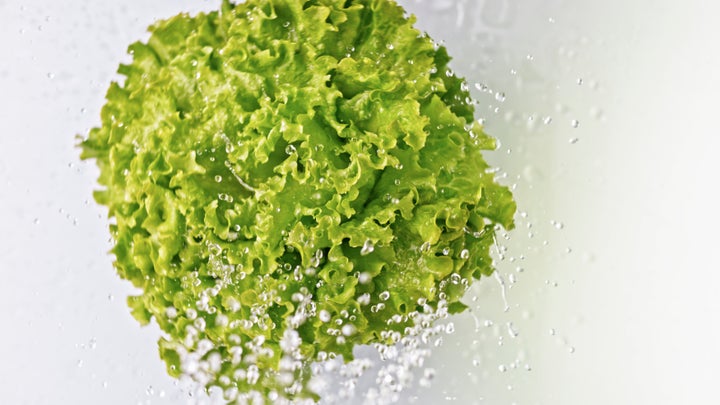 Be Brand-Agnostic For Most Ingredients
You can only stare at a giant wall of olive oil for so long before that overwhelming feeling kicks in, causing you to cave and grab the familiar option instead of the most cost-effective.
"In restaurants, we typically only have non-negotiable specifications for a few key ingredients, like a specific barbecue sauce or local sausage that's key to a dish," said Nate Weir, vice president of culinary at Modern Market Eatery. "For almost all other ingredients, chefs will look at bid sheets from several suppliers and order pantry, produce and dry goods based on the best price."
Weir finds that using a wider lens rather than always grabbing the same brand helps him find the best value. "The reality is that most of the time any differences are going to be minimal and ultimately unimpactful to the outcome of your meal," he said.
The next time you find yourself consumed by options, ignore the brand name and marketing and choose the one with the lowest unit price instead — a calculation that's usually printed right on the item's shelf label.
Shop Super Early (Or Super Late)
When Jennifer McClintick, chef instructor at the Auguste Escoffier School of Culinary Arts, is after a deal, she either schedules her shopping trips early in the morning or later at night.
"Stores mark down items that are expiring soon, with markdowns usually happening first thing in the morning and again late in the day," she said. "This usually includes packaged produce and ready-to-take meals, meats, deli and bakery items."
Shop From The Back Of The Shelves
Another thing McClintick does is check labels for "best by" or "use by" dates to find the items with the longest lifespan — it lowers the risk of you having to spend more money to replace items if you don't end up using them right away.
"Employees usually rotate products using the 'first in, first out' method when stocking shelves, so you'll often find the newest and freshest items at the back of rows," she said.
Double Your Meal With Legumes
When Vermont-based nutritionist Dr. Deb Kennedy is looking to stretch her food dollars, she looks no further than legumes: When she makes chili, tacos or quesadillas with meat, for instance, she adds a can of rinsed black beans, which "doubles the amount of the meal for under 40 cents," she said. (Or for even more savings, you can buy dried black beans and cook them yourself.)
Take Strategic Shortcuts
It's no secret that pre-cut veggies aren't a money-saver. When used as a supplement to your meal prep, however, pre-made sides from the deli counter can be.
Rather than buying five or six ingredients to make a side dish or salad and risking what's unused going to waste, Chiappetti hits the deli counter for fully prepared sides to accompany, say, grilled steak or fish dishes, and then orders the exact number of servings he needs.
Pre-Portion Leftovers
Many of us have a tendency to make a casserole or big pot of something, only to shove any post-meal leftovers in the fridge and forget about them. And the longer they sit in the fridge, the more daunting they become to deal with, until you have no choice but to toss them.
To ensure leftovers aren't forgotten and to increase the odds they're actually eaten, Yadira Stamp, owner and chef at Esencias Panameñas in Washington, D.C., portions them out in advance.
Once cooked leftovers have cooled (within two hours), she "divides them into smaller portions and stores them in shallow containers." That way, all you have to do is pop one of the containers in the microwave when you're hungry, versus wasting money on both expired leftovers and the subsequent takeout ordered when you don't feel like cooking.
Pretend You Don't Have A Fridge
Instead of weekly shopping lists and buying in bulk, William Rosenberg, executive chef at B|stro 38 in New York, pretends he doesn't have a fridge and only shops for that day's meals.
"I have a saying at the restaurant: 'We paid for everything, we use everything,'" he said. "Shopping for one day at a time really helps you hone in on what exactly is being used and how much."
He saves bulk buys for when he's having company or has a large party to cook for: "Buying items that won't be used for months, if at all, for the sake of a deal isn't the savings we assume it will be."


[ad_2]

Source link